Notes: The Pheasant Tail Nymph (PTN) is a design of Frank Sawyer, who was the River Keeper of Avon River in England in the early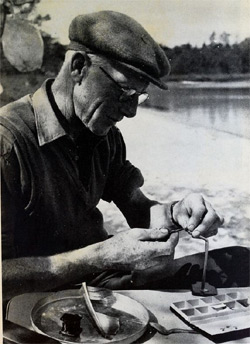 1900's. The pattern was designed to imitate the baetis hatches occuring on the Avon. To keep the sillouette slender, Mr. Sawyer used only two materials: fine copper wire and 4 Pheasant Tail Fibers. The shape allowed the fly to quickly sink with the weight of the wire, the few fibers gave the appearance of legs and tails. Terry Lawton had a very good article on tying the original Frank Sawyer PTN in Flyfishing & Tying Journal, Fall 2007. He pointed out that Frank finished his nymphs with a whip finish of the wire behind the thorax. This was confirmed by Frank's daughter, Pat, although the rest of the family preferred to finish the nymph behind the eye. Today, most Pheasant Tail Nymphs (PTN), in the Sierra, tend to be larger with somewhat more materials to imitate the Callibaetis, Blue-wing Olives, March Browns and other mayflies that frequent our streams. Probably one of the most popular variations for the Sierra is the Peacock Thorax by Al Troth using peacock herl for the thorax. This pattern is also known within the United States as the Pheasant Tail Nymph (American version). Andre Puyans added another variation using flashabou for a wingcase and utilizing the butt ends of the Pheasant Tail fibers to create small appendage-type legs. Andre was also one of the first to incorporate a gold bead to the fly. Substituting brown thread and using a wire ribbing is also commonplace on most of the PTN's purchased today.

Dean Endress, of Fishermen's Spot, came up with his Robo PT in the early 1990's. He uses a Copper and Dark Green Lite Brite blend for the thorax with a flashback of flat Pearl Mylar or strands of Holo Silver Mylar over a Pheasant Tail Fiber underwing. He's been sustituting brown or black scudback for the underwing lately. Dean also uses UV Knot Sense to coat the mylar flashback. The fly is marketed by Solitude Fly Company and has been very popular within Sierran streams.
Another variation was to use a curved hook with a heavy tungsten bead. This pattern came to be called the Quasimodo. It includes the Peacock Thorax and the Pheasant Tail Legs as well as a Flashback wingcase. Basically, all of the previous improvements of the original Sawyer PT on a curved hook.